Headed down Friday night and splashed the yak very late. Conditions were great and I got into a topwater speck bite right away. I spent 3 or 4 hours on the water and had action pretty much the whole time, never even went more than a couple hundred yards from the ramp. I kept a limit of specks to give to family and friends, and also released some more fish including one lone puppy drum. A Super Spook Jr got the most bites but a Swimmin Trout Trick caught the most fish.






Got a blink of sleep and then launched in Little Creek Saturday morning. Action was non-stop action but the fish were all small this time. Caught tons of little specks and two weaks. Got a couple fish on a Mirrolure and the rest were on plastic.


Had a painfully large dinner at Captain George's and then launched again around 10pm. Water was flat calm which I think hurt the bite for bigger fish. No topwater action either. In my experience, trout bite much much better when there's a little chop on the water. Little specks don't care though, and they were thick as fleas, especially in the area between the bridge and the inlet. I did end up getting one at 21", and also a few little stripers. Missed a couple fish that felt like puppy drum. Got off the water around 4.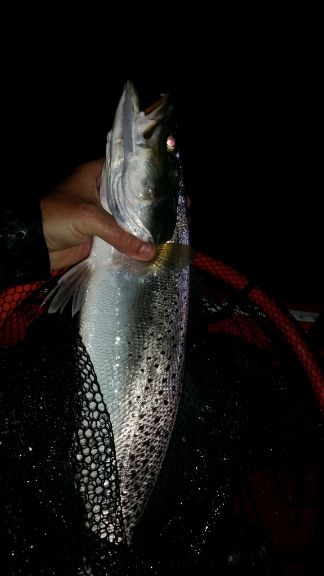 After a few hours of sleep I did some wading in the marsh. The full moon tide had the water higher than I've ever seen it, it was up over the shore and there were actually minnows swimming in the pathway down to the creek. I fished for about an hour and a half and caught a couple more of these little guys before I had to leave.






I think the bite will only get better as the water cools down a little more. Gonna try to get back down in 2 or 3 weeks.