We (John Casale, Rob Allen, Jeff English and I) woke up this morning with great anticipation for a day at the CBBT but as reported previously, the wind and waves just would not settle down. At around 10:30, we were getting ready to head down to the ramp when two boats came back. They had gone out earlier in the morning so we wanted an up to date report.

The 1st boat was a 19 foot Triumph and they came back wet....and green. One of the guys looked really bad and after I talked to him, he was headed up for a shower and an afternoon of TV watching. He wanted no more of the CBBT. The other boat was a 25 foot Parker and they headed back after getting wet and getting the snot kicked out of them.

Yes, some boats went out and caught fish but it was rough and hard fishing. One of our friends caught 20+ fish with the biggest being 24". That's not what the CBBT usually offers up. Another friend was eeling in a 25 foot boat and he caught some nice ones but he was happy to be headed back to port.

After talking with these guys, we made an instant decision to head home. However, I suggested that we stop at Lake Anna on the way back and that seem to lift our spirits so off we went.

The trip to the lake went fast and we were on the water before 2 PM. The crew was ready even though it was only 39 degrees....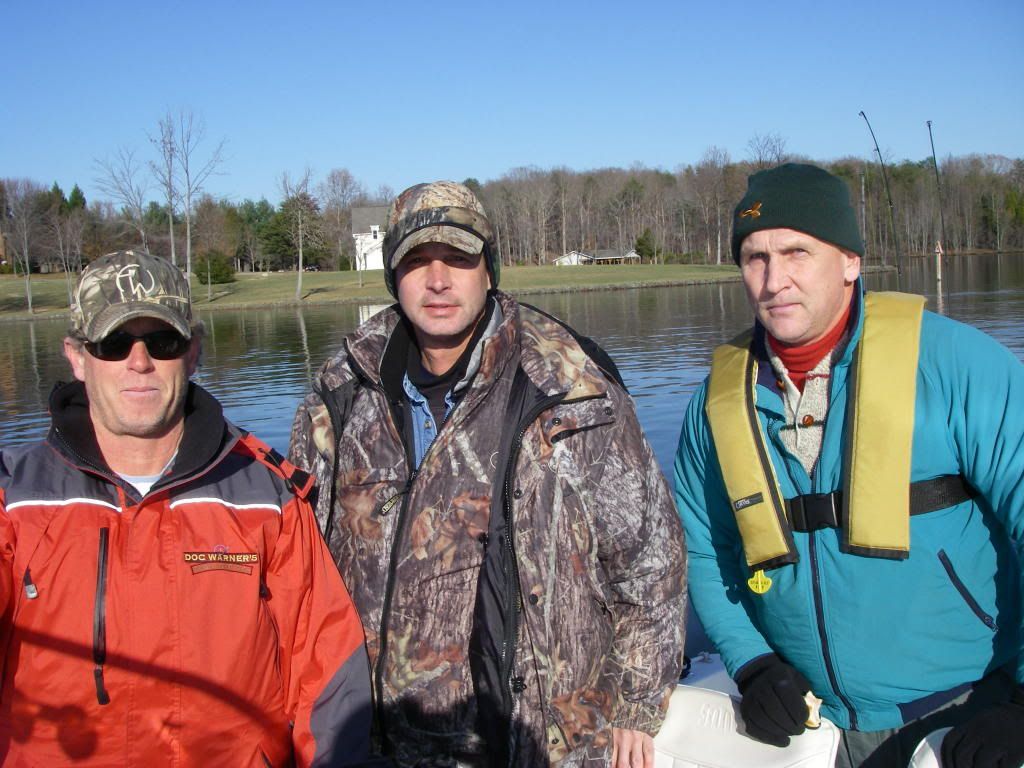 But there was little to no wind and the lake chop was at 2-3 inches!

We started by doing some casting at jigging in a couple of areas that we had caught stripers before with Guide CC McCotter. We didn't get any so we headed up lake to look for birds. We found the birds but they played the same game they always do when we fish down there. They start circling an area and a couple of them make a dive. We get exited and head over to where they were and they move away and do the same thing about 100 yards behind us. I swear, they talk to each other and say, "watch those clowns move when we circle an area"!

Anyway, we cornered some bait and Rob and I managed to take the skunk off the boat with these two beauties.




Curly also got into the action but did not want his picture taken...too modest!

As the sun started to go down, we started to slowly move back towards the ramp and we tried a few areas to no avail. We said that we would not chase any more birds unless we saw fish breaking. A few minutes later, we saw some birds and headed right to them. They got us again but wait.....Rob has a fish on and manages to bring a striper along side of the boat....




Jeff does a masterful job of netting the 19" striper and for the 1st time in 7-8 trips, a striper from Lake Anna graces my boat!




We have caught stripers at the lake before but always with a guide! Finally, the Lake Anna skunk is off my boat. I also managed to get one on teh hook but he got off as he got close to the boat. Jeff had asked if I set the hook....ooops!

So, the day wound down and we started back in right around sundown....when I looked back, this is what I saw!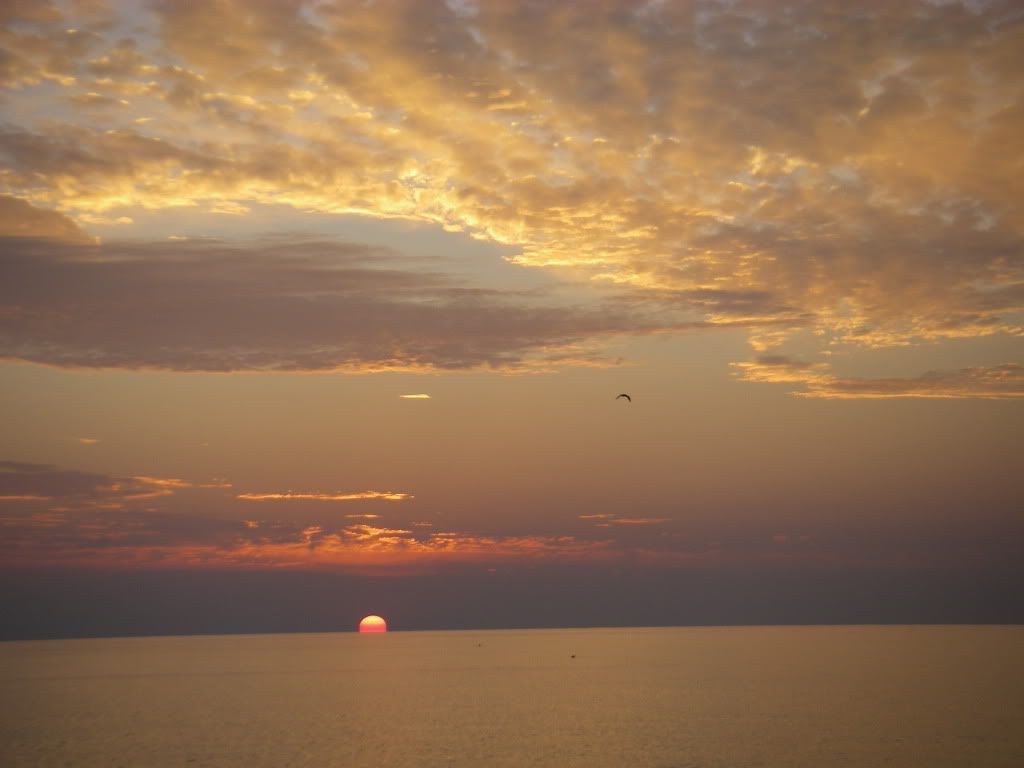 As Rob said earlier, we made lemonade out of lemons. We finally got the boat wet and even caught a fish.

It was a tough weekend of hurry up and wait as we tried to ride out the weather. But we had a great time and got home before 8:30 which was several hours earlier than we had planned for.

We have already made plans for next year's CBBT trip and might even sneak one in this year...WEATHER permitting!
---
Time to go fishin' again!