400

This group of guys enjoys fishing in our area....Lonnie is from KC (home of the Royals, 1985 & 2015 WS champs), Kurt and Daryl are from Minnesota and Maynard is from Alexandria/Newport News.

This trip was set up to celebrate and they wanted to catch a lot of fish.

We booked with Capt. Lee Tippett on the Fin Finder II, who I've know for a few years now.




The man can flat out fish! His mate Jim, on his 1st trip our with Lee, looked like a spinning top at times. More as to why when you read below (or noticed the number up top).

We got a room at The Holiday Inn (no joke) the night before and had dinner at The Lighthouse. Soft shell crabs were on the menu and they were outstanding. As was the bread pudding! I need to remember to take pictures....great meal!

But...on the way down, I got a flat (truck) right on the Toll Rd. Immediately, a Road Assist from the Airport Authority guy pulled behind me as I was on the phone with Geico. He was more than willing to help me change the tire but we could not get it loose from underneath the bed. Rats! The mechanism had rusted. Now I need to get towed but have dinner reservations at 6:30p....2 hours away and it's 2:45p.

So I call my sweet wife and asked her to come by and trade places with me. I would go on to Solomon's and she would ride with the tow truck driver to Automotive Machine and repair who are the guys I've used for almost 20 years (and I bought my truck from the owner). She would have to taxi home.

I get on the road and get a call from Debbie saying that Doug was able to get spare tire loose and changed it so she could drive the truck home. And no charge! It pays to have long term relationships!!

I got to dinner at 6:25p with 5 minutes to spare after spending a couple of hours in rush hour traffic....

One more thing before the fishing. I called Lee the night before and told him we were not prepared to keep too many fish since all of the other guys had to travel back. And I told him we just wanted the trip to be fun and memorable. He had a plan!

We meet up at 6:30a and got on the move!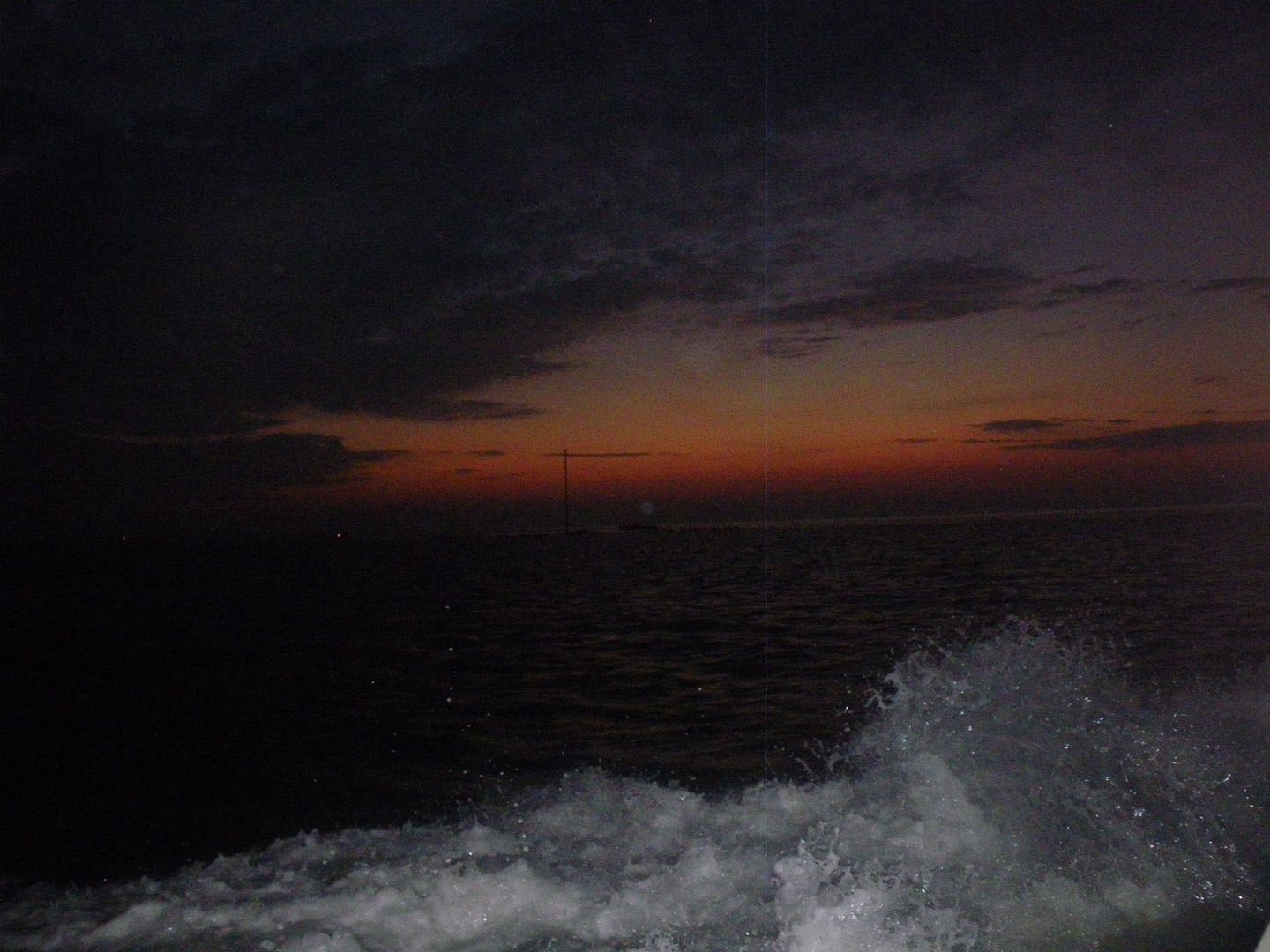 Lee said they have been catching some nice weakfish (sea or grey trout) and that intrigued me since I had never caught one....until today!

They were mixed in with small stripers but if you tickled the bottom (vs jigging quickly), you would get a trout.

Lonnie had no idea one could catch a trout in salt water. Well, you can't. You catch hundreds!

Here is the picture story....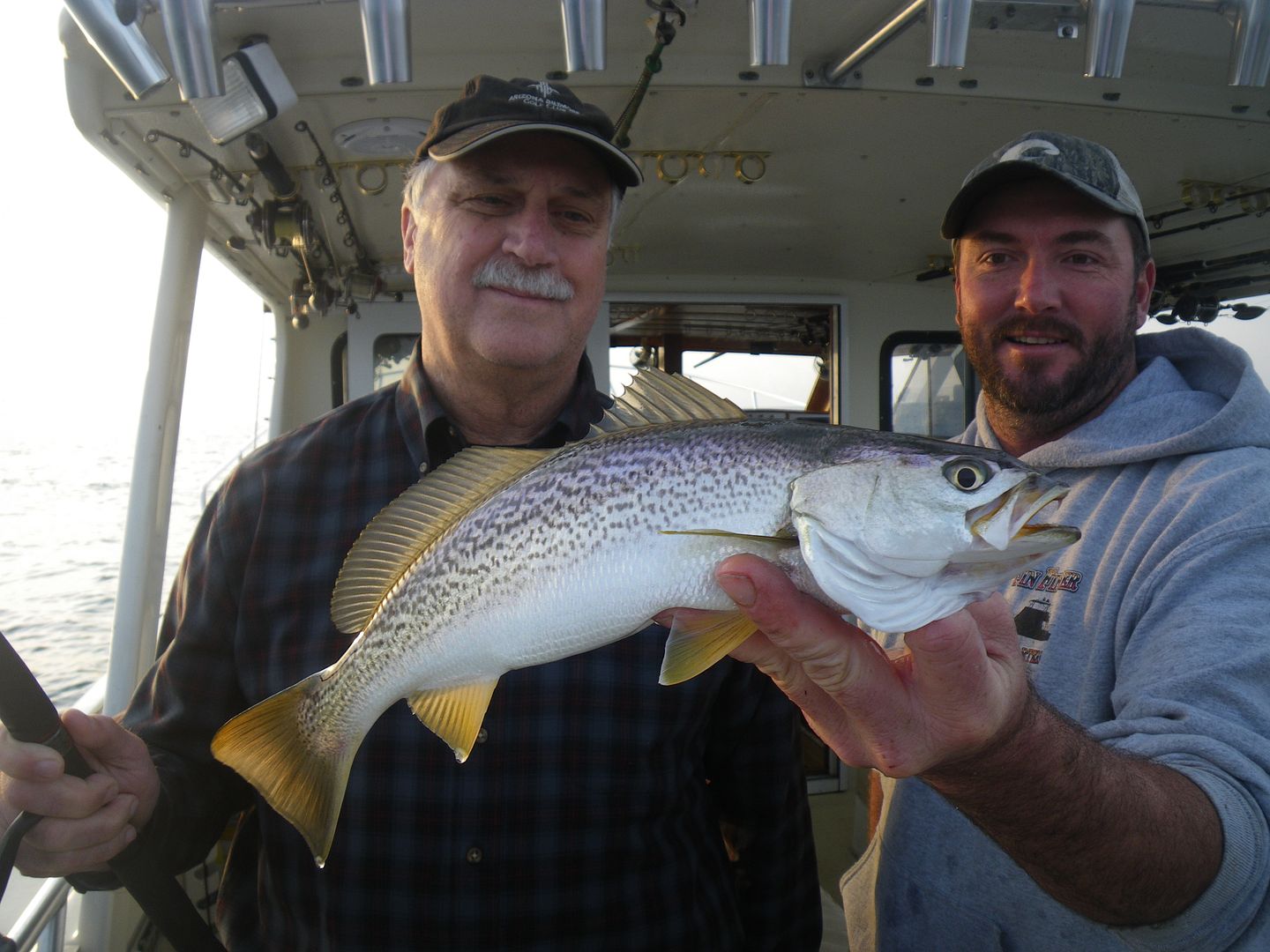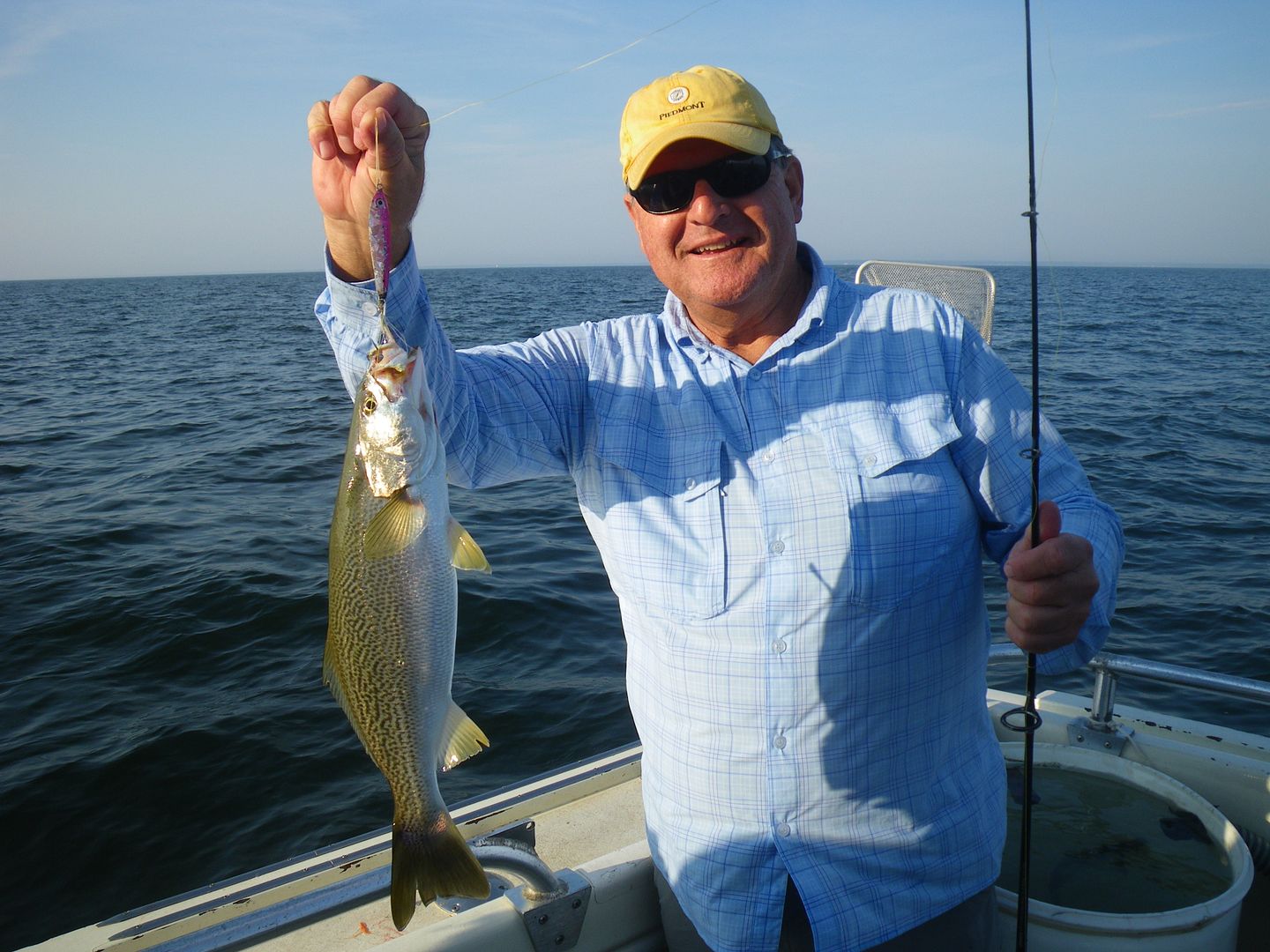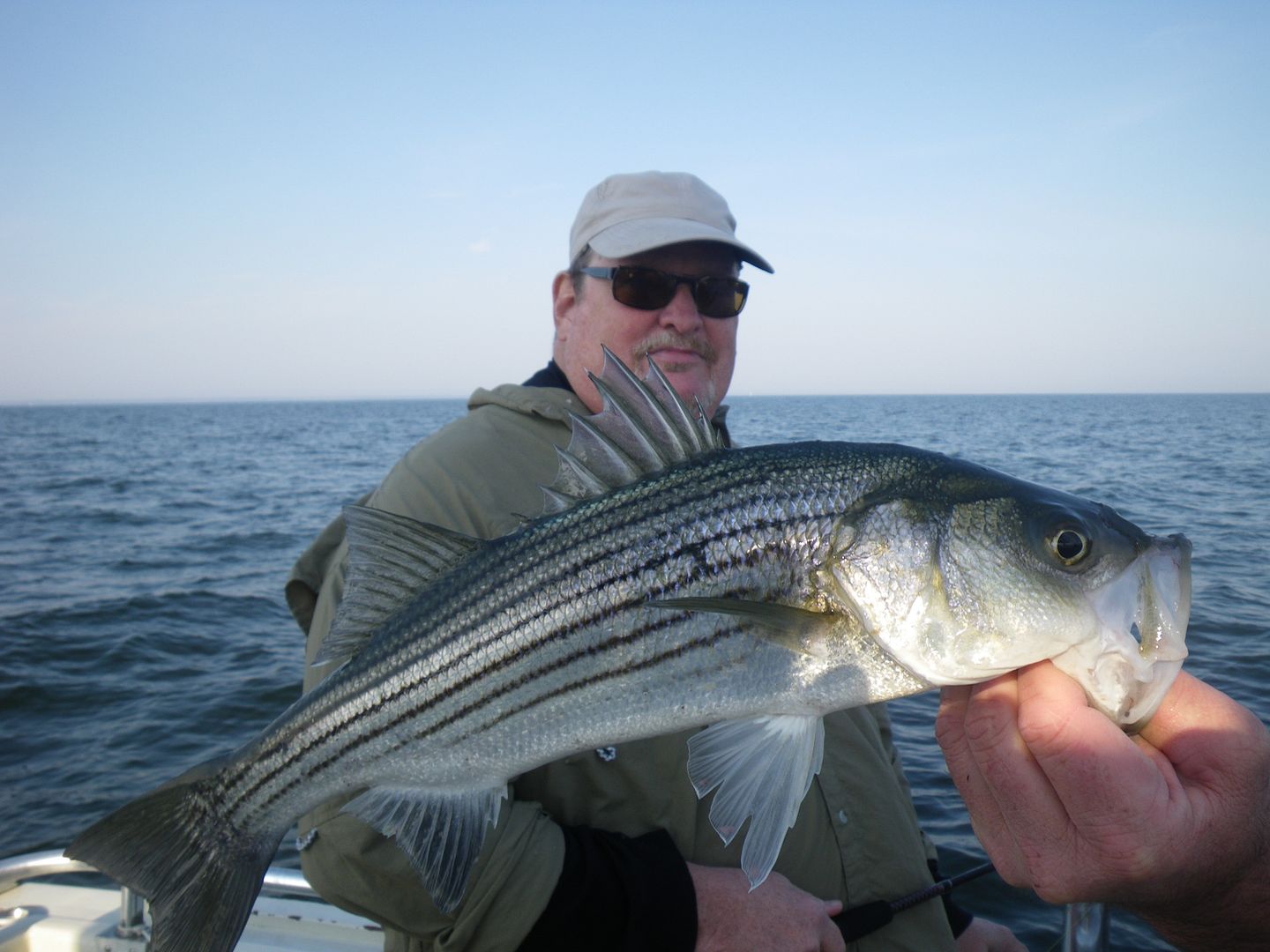 Here are some of the comments:

My hands hurt!

Someone please rub my shoulder!

Another double!

I'll quit when I reach 100!

We laughed like kids! These guys (and me) had a blast!

The estimate for fish caught is 400. This is not a stretch...it could be more. Non stop for 4 hours. We had Jim on the move for 4 solid hours....he more than earned his tip!

Happy campers!




We caught the majority of the fish in 90' of water. Had no idea we could do that....incredible!

In the mix was a blue and a couple of keeper stripers....all under this!




Jim had some work to do but a thankful crew rewarded him handsomely....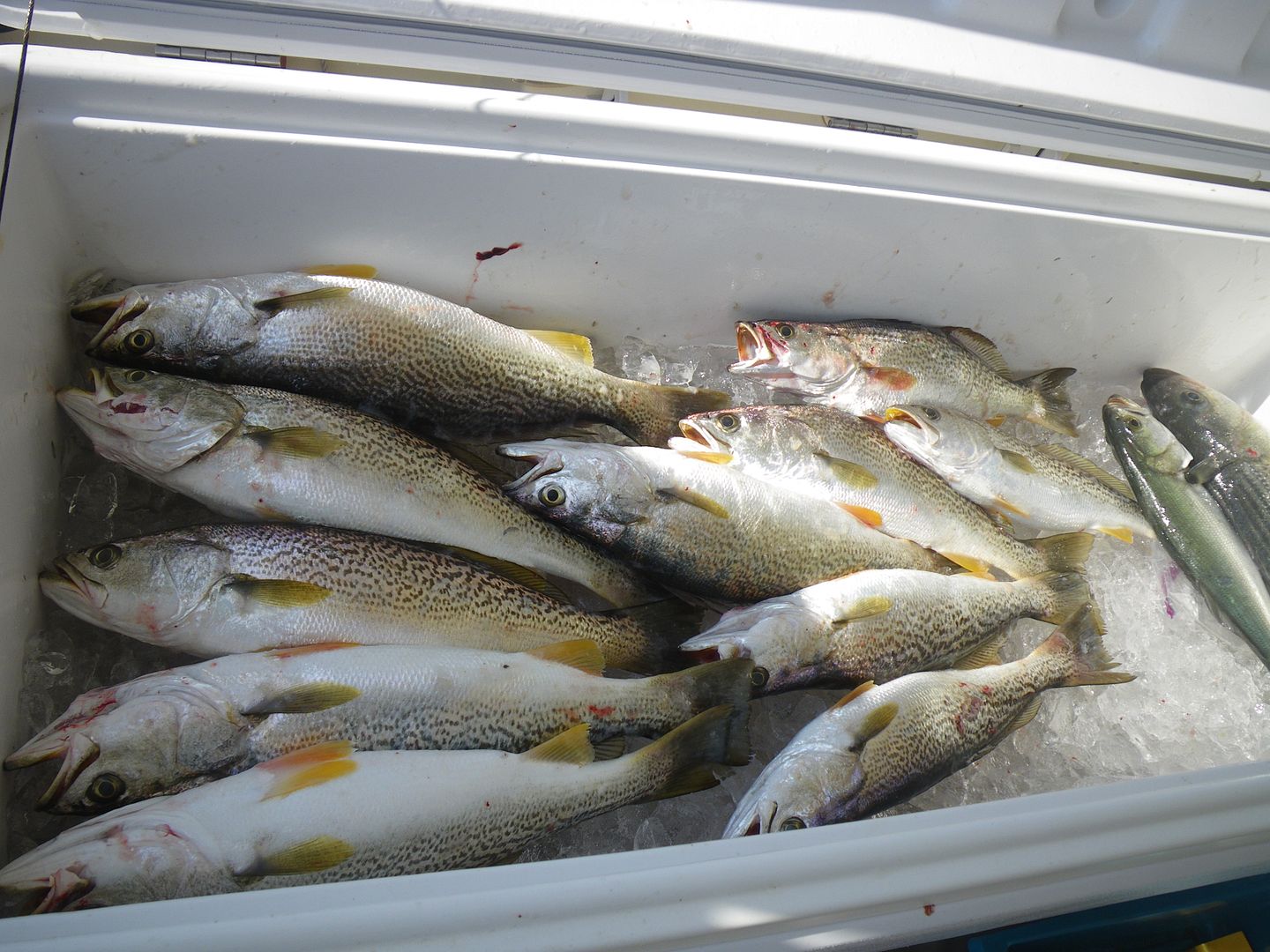 Finally, after near exhaustion, we made it back so the guys can catch their flights home.




But not before a stop at Boomerang's BBQ. We sampled the ribs, chili and pumpkin pie.....so good! And NO pics!

All I know is that the guys were wiped and happy. It was summed up by Maynard when he said, "Ernie, I've never caught 100 fish before!".

What a day!
---
Time to go fishin' again!