Headed down Saturday morning and launched in Lynnhaven at 9:30am. I was greeted by bright blue skies, dirty water, and lots of wind. Ugh. Fishing was tough. There were plenty of small trout around but even they were a little more challenging to catch than usual, even after I downsized to light tackle and 6lb test. I ended up catching a couple dozen of them, mostly <12" but a few up to 16 or 17".






I headed back into the marsh and found 3 or 4 reds up to 19" in the shallow water, caught them on jigs and spinnerbaits. I liked the spots on this one.





Kept 1 red and released everything else.


Launched in a different spot Saturday night. It was now dead calm and there was very little current....and fishing sucked. I caught a handful of trout with 1 that was maybe 18". Also a few runt stripers and a bluefish under some dock lights. By the time I got off the water early Sunday morning, the bite was completely dead, not even the baby specks were biting.


Got a few hours of sleep in the car and on Sunday morning I gave it another shot in Lynnhaven. The wind was back and in 3 hours I caught 1 speck of maybe 18" and several little ones. Couldn't find any reds this time.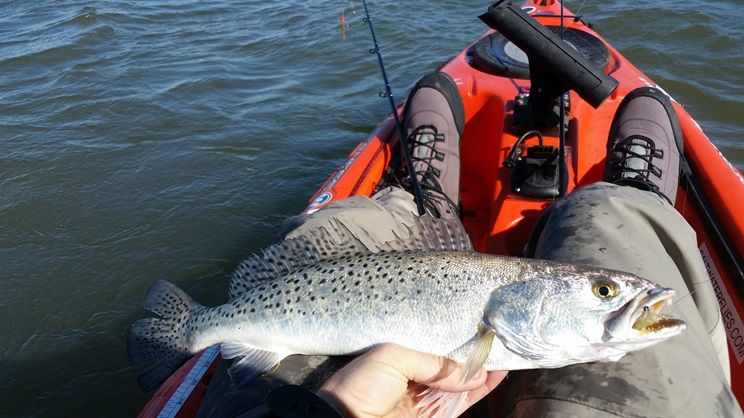 Headed home from there. Tough fishing but a fun weekend anyway!