Got into VB well after midnight on Thursday night/Friday morning. A tractor trailer accident on I64 stopped traffic for over 2 hours so what is usually a 3.5 hour trip was closer to 6. I was too tired to launch my kayak, so I just fished Little Creek from shore for about an hour and caught a few small specks.

Friday I launched the yak in Lynnhaven inlet. Caught a ton of trout, but as expected they were all little guys. Fun to catch on ultralight gear and 4lb test though.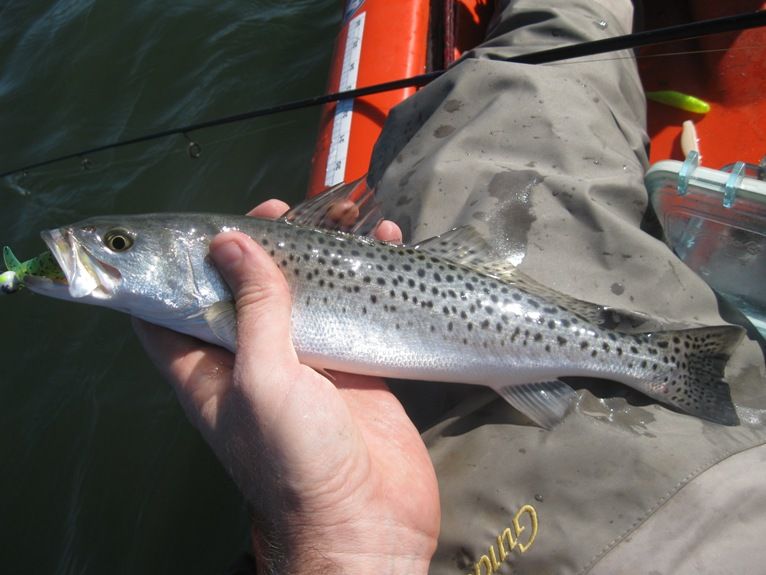 It's good to see them around since the Chesapeake stock was basically wiped out last winter. I will be back next year to catch them when they're a bit more grown up!

Winds kicked up fiercely on Friday night so no night fishing for me.

Saturday the wind calmed down a bit so I launched inside Little Creek. Fished from Shore Drive all the way out to the bay. Got absolutely drenched in the pouring rain but I enjoyed the day anyway.




Caught a bunch more little specks, and 1 puppy drum that was just inside the slot. That was a bit of a surprise cause haven't heard of many small drum in VA this year.




He had a couple big shrimp in his belly. Didn't think shrimp that size were present in VA, and certainly not in November. I need to figure out how to catch them!




Wind came back with a vengeance on Saturday night so once again, no night fishing.

Snuck in a quick wade in Lynnhaven on Sunday morning. Wind was howling, air temps had dropped about 20 degrees, and the water was dirty. I caught nothing but it was fun anyway. Can't wait for next Spring.