Lynnhaven Inlet 11/3

I got to the Crab Creek launch about 7:30am on Saturday. The air temp was a balmy 42 degrees and the wind was blowing steadily from the Northwest. Water was still pretty murky from last week's storm.

Things were sloooow for the first 5 hours I was on the water, and by slow I mean I didn't have a bite. I was the only yakker out there as far as I could tell, and there were only a couple of boats in the marsh with me. I mostly fished channels, thinking that fish might be holding a little deeper due to the cold front, but I also hit some docks, oyster bars, and of course plenty of marsh edges.

I didn't get my first bite until around 1pm, it was a speckled trout of 19" that took a Mud Mino paddletail just off of a marsh bank.




I worked that area thoroughly hoping to find a school, but it wasn't to be. I was however able to coax one more bite about an hour later. It was an 18" speck that took a Mirrolure in a rip near the boat channel. That would be my last bite of the day.

I was out of the water around 3:30. Got surveyed by a NOAA worker at the ramp, who weighed and measured the trout. He said those were the only fish he saw that day, so that made me feel a little better about the lack of action.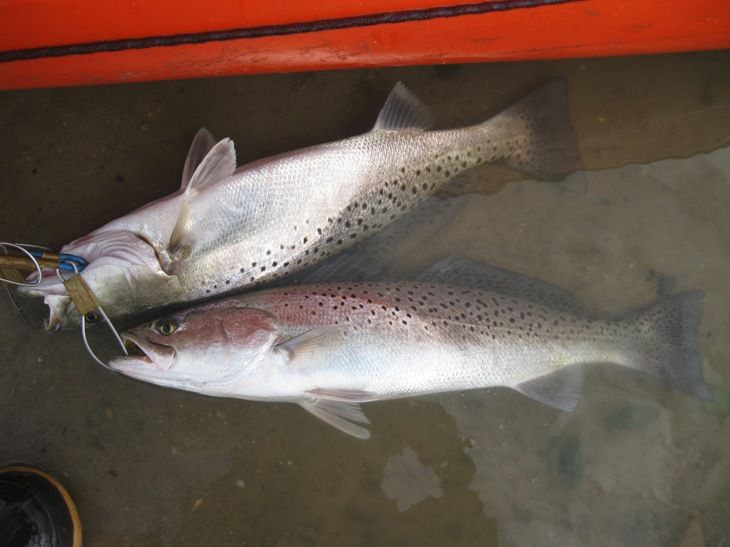 Rudee 11/3 Night

Aside from the now colder temps, conditions were beautiful at Rudee. The wind had died completely and the water was smooth as glass when I put in around 8:30pm. There must have been a strange moon phase or something, because there was no tidal flow whatsoever, the entire inlet was like a farm pond.

It took about an hour to get my first bite, and that was a little puppy drum, too small to be worth measuring. I worked my way towards the front and hooked up to a 16" speck under a dock light. My final bite came about 30 minutes later, and it was another little pup of 17" or so that came from a dock.

I fished for another 3 hours after that but came up empty. I worked all around Lake Wesley and then back through Lake Rudee on towards the ramp. The number of boats and yaks on the water was surprising, it was certainly the most I've seen at Rudee on a November night trip. When I pulled up to the ramp, I counted 5 kayaks and 3 boats just behind the science museum, with more people launching. Nobody I talked to had caught more than a handful of fish that night. I'm pretty sure it was the total lack of tidal movement that hurt the bite.

Lesner Bridge 11/4 Morning

I got a few hours of sleep in the truck, and then hit the beach in front of the Lesner bridge on Lynnhaven inlet. It was another cold and gloomy morning with a little bit of rain here and there. I spent a couple hours jigging and caught a bunch of puppy drum right up near the shore on various plastics and Gulp baits. They were all in the 13-17.5" size range. Fun, but nothing I could take home.




The bite slowed down so I headed home from there, with the requisite stop at BPS of course. Fishing wasn't quiiite what I expected, but it was a great weekend anyway. No complaints!