CBBT Report –

December 3rd & 4th –

I was invited to fish for the weekend by friends George Lenard and Dave Gedra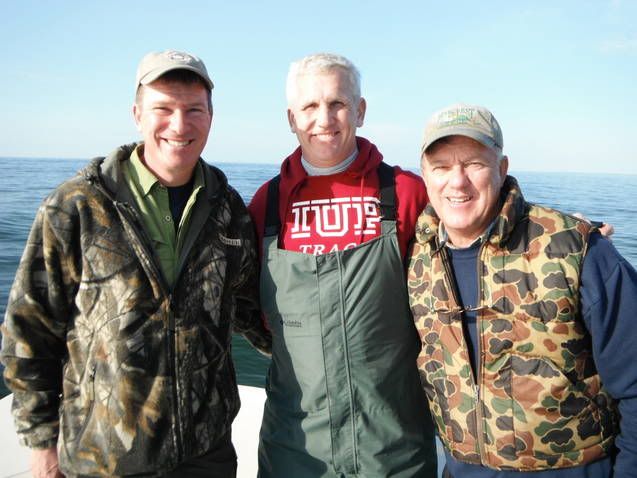 – the plan was to book two consecutive days of fishing – and if things work out – you get two days – but with the inconsistent weather patterns of December at the CBBT – you often get blown out one day – at least –

Well, we were lucky – and both days were fishable –

We were fishing with Guide Richie Gaines – it was my first time fishing with Richie – but George and Dave had been out with him before – He is very good.

On Saturday – we met at 10:00 am – as we wanted to wait and see if the wind would lay down a bit – it did – and off we went.

The plan was the fish the pilings – and I was able to score first with a 35" fish on a Ύ oz. Lil'Jimy bucktail that was dressed with a BKD trailer– very nice start – fish was released too. George and Dave got into the action – and Dave had the hot hand on Saturday– consistently catching throughout the day.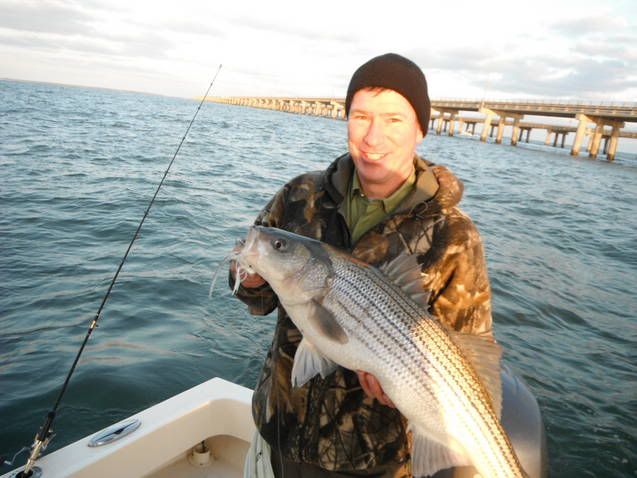 We fished exclusively a selection from Specialized Baits, the lure company that George owns – We fished Lil'Jimmies, The Bug, and Shaggy Shads – all colors were productive – presentation at the right depth and proximity to the piling was the key.

We caught quality fish through out the day -

Toward the end of the day, this angler was getting a bit tired, and momentarily lost concentration - I accidentally flipped my rig into the drink – St. Croix Tidemaster and Penn 360 slammer combo($280.00 retail) – the line caught the tip as I was underhand flippin toward the piling– the 1 oz. lure weight popped it from my hands and I watched it sink into 12 feet of water – I was upset and also embarrassed – the word "buffoon" immediately came to my mind – it was my first rod overboard ever… 

Richie asked if we had any lures w/trebles – nobody did – but alas – I found a trout bomb looking lure in my bag with a treble hook – I tied it on and Richie directed me where to cast – on the third drag through – I feel something and begin to reel slowly in– I did not say a word until I get it to the surface – out of the depths – a minor miracle - my rig – I snagged one of the eyes - unbelievable – zero to hero.

We were in 12 feet – with a sandy bottom – this is the only way we could have retrieved that rod – incredibly lucky….

So, the rod is now back on boat – looks clean as a whistle.

So – in order to get the water out of the reel – I begin to cast toward a piling – second cast – 33" striper – again – unbelievable – Richie was laughing – apparently, while I was casting my soggy rod – he says to George and Dave – "watch him catch one"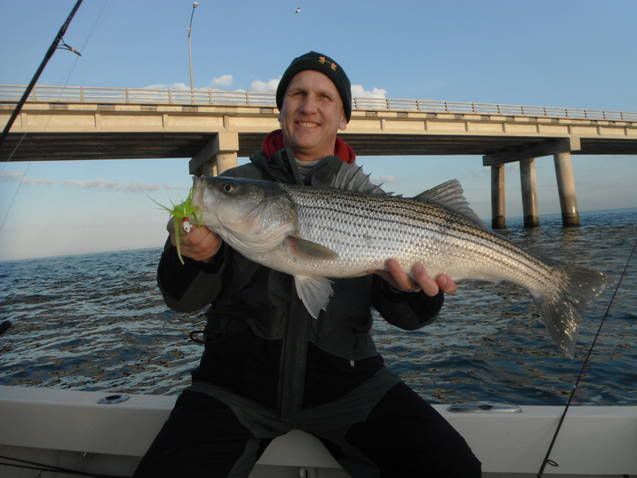 Sunday turned out to be very calm – but we had current – we were picking off a few pretty steady – when George hooks up with a nice fish – we all could tell that this time was "different" – he was wrestling this fish with a 6'6" spinning rod –




and it took all he had to keep this fish away from the pilings – after about ten minutes, the fish comes up to the surface and rolls – a whole other class of Striper we had here –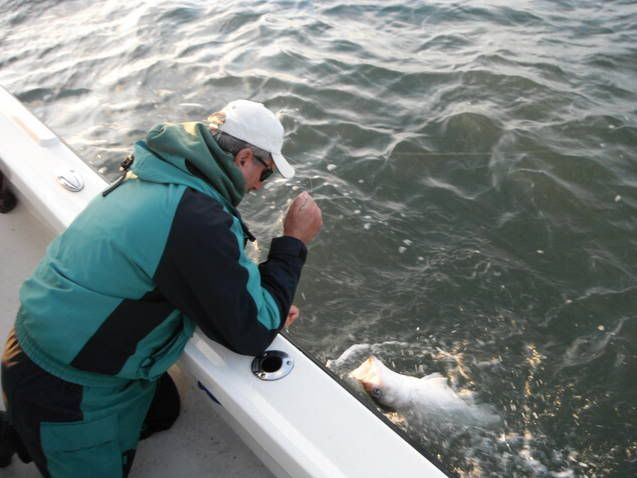 Richie got it netted and we get it on the boat – it measures 47" – but it was the fattest striper we all had ever seen – Richie estimated well over 50lbs. – I do not doubt it one bit.




This fish was a real specimen. George hooked the fish on a Shaggy Shad - bunker pattern with a silver glitter BKD trailer– it was his personal best -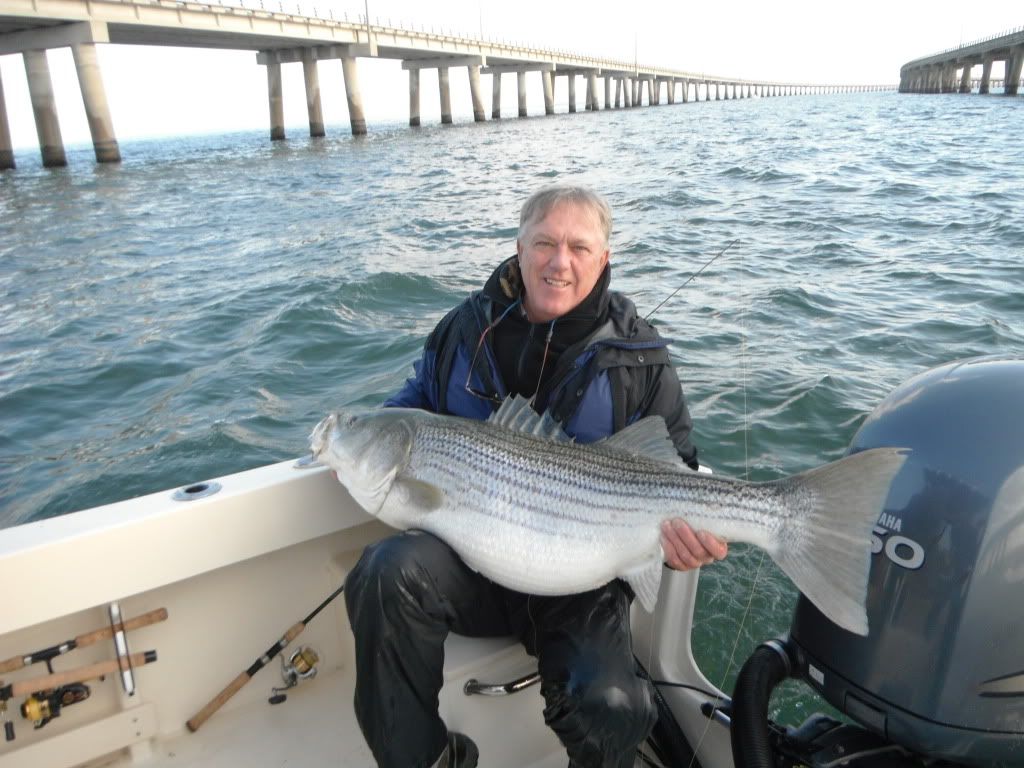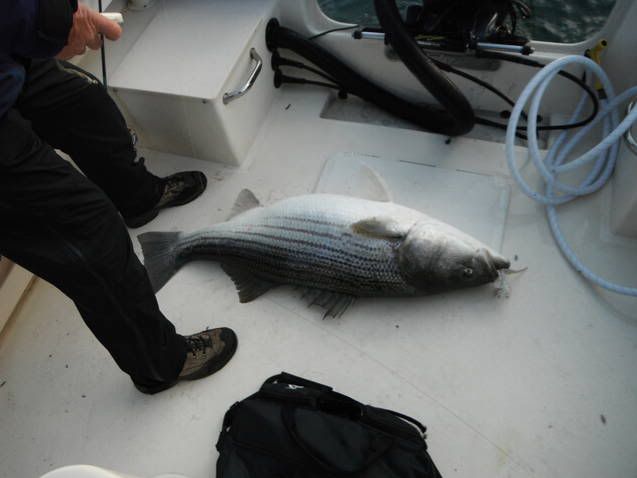 Never seen George so happy - after some quick pics – she was revived and released.

We caught some more quality fish – but nothing even approached the size of that one -

Summary–

Saturday – fished from 10 -4:30 – 23-25 fish – 5 were kept below 27" – Dave was the hot hand.




Cold weather – but not real bad.

Sunday - fished 7 to 2:45 – 12-15 fish – I was the hot hand –




George caught the biggie – one keeper fish under at 24" –

Overall – we caught close to 40 fish – only 6 were under 28" (which were kept) all other fish released – about 8 were over 34" – the rest were in "The Slot" -28-34 –

Quality over Quantity – we did better than most who were out there –

If you ever want to book a guide for this CBBT fishing – Richie Gaines is a good one to fish with.

If you ever want to catch stripers – the Specialized Baits lure company produces quality lures.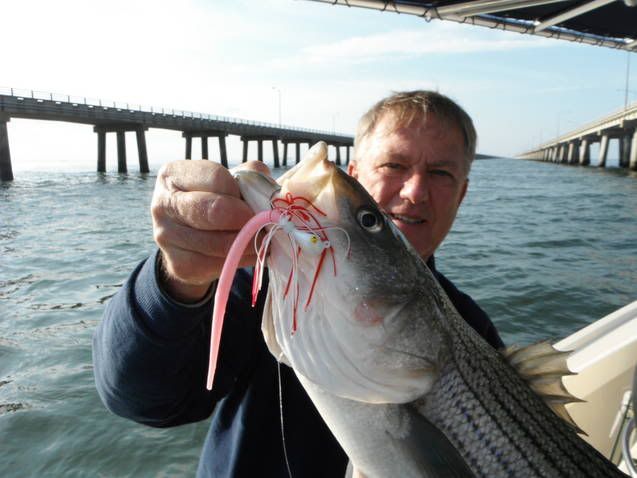 Last trip of the year -