Sticking with the Virginia trout theme. Only this time, instead of fishing for brook trout at high altitude, I went fishing for speckled trout down at sea level in the tidewater region of Virginia.

I got to the launch around 9:30pm. Pushed off in my yak and started fishing just a few paddle strokes away from the ramp. It was pretty quiet for the first 30 minutes. No bites, and I didn't notice a lot of activity. Not many boats or yaks out there either.

I eventually ran into a pack of small specks near some marsh grass, and caught several on a Purple Demon mirrolure. Nothing within an inch of keeper size though. I probably had 2 or 3 bites for every fish I actually caught. I still haven't figured out how a fish can bite a lure with 3 treble hooks without getting stuck.
I stayed near the islands for a while and caught some more little guys. I used a Lucky Craft Sammy (topwater) quite a bit, and a paddletail bait too, but the mirrolure got the most bites by far.

So eventually I got bored with those little guys and headed to another promising area. I probably spent close to 3 hours fishing all over the place, and did not get a single bite. Not even the little spikes were over there. Conditions looked really good, but I have a feeling that that spot was hit pretty hard by other anglers earlier in the night.

I headed away from there, and started making some casts at a spot that's never produced for me before, and that's where I finally hooked into a decent speck. As luck (and mirrolures) would have it, that one got off. Boy did he do a lot of splashing. A couple casts later I hooked up again, and managed to get the net under this one. He was around 19" and went on the stringer.

Well, within the next few minutes, I hooked up three more times and only managed to land one of them. I decided enough was enough with the mirrolure, and started throwing my trusty Old Bayside Mud Mino paddletail. That did the trick. I hooked up repeatedly after that, and landed every fish, which was a nice change of pace. Within about 25 minutes I had 9 keepers on the stringer. Nothing huge, but they were all solid fish. I had one more space to fill out my limit, but decided to just go C&R for the rest of the night.

So that's when I broke out my ultralight spinning setup spooled with 4lb mono. I caught 4 trout up to 17" on that gear, and that was a lot of fun. I'm really glad I decided to bring that combo along. I was using it with a 1/8oz rabbit hair jig that I had tied earlier in the week and they seemed to like it.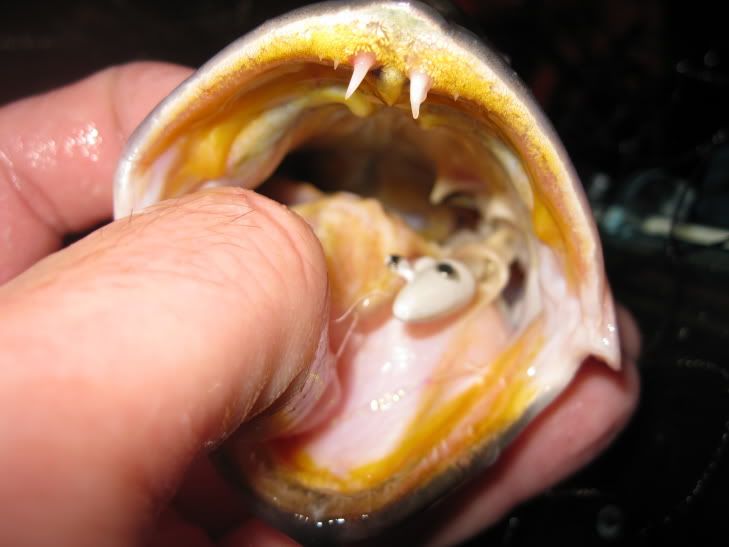 The bite in that spot dried up before long, and I went on my way back towards the ramp. I fished around the marsh some more and caught a couple more little spikes before heading in.

Here's my stringer: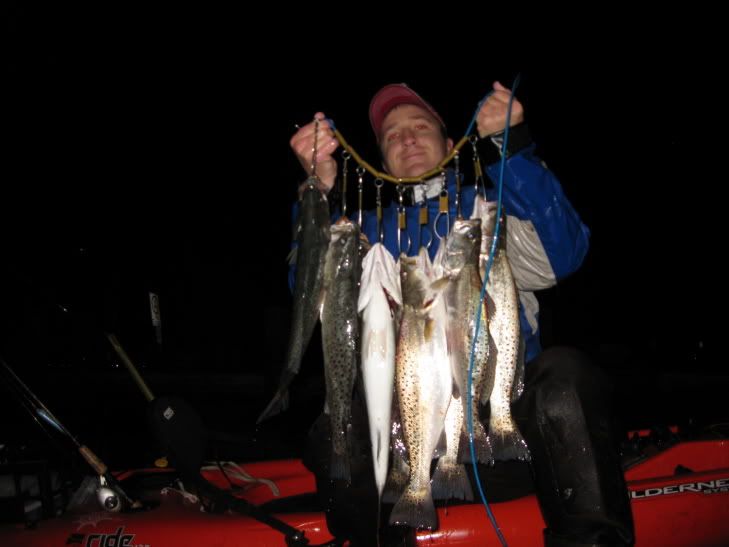 And here's what did the damage.




After loading everything up at 4:30am, I went over to the parking lot at the Crab Creek boat ramp, where I made some deluxe accomodations in the back of the truck. Sure, there was no running water, or electricity, or a real bed, but at least there was plenty of fish slime and treble hooks. Who needs a hotel.




I slept for maybe an hour and a half, and got up ready to do some more fishing. Unfortunately the weather had changed drastically. There was now steady rain with 20+ winds out of the North. So much for yakking Lynnhaven. Seems like every time I try to go back there the wind keeps me away.

When the rain let up a little, I made a brief stop at the rocks of Rudee inlet to do a little casting from shore. I didn't catch anything, but I saw some very small specks caught at the corner. After that, I was out of ideas. I hit Bass Pro Shops in Hampton and then left for home.

A short trip, but a sweet one!
Last edited by Bryan (Nov-06-11 4:15AM)