We heard about Fletcher's from you guys and decided to try it out today. Tyler had been asking you guys a bunch of questions to try to figure this place out ahead of time. THANK YOU for your help. We appreciated it. We almost didn't go because of the weather predictions but it turned out to be pretty good this morning. We got out on the yaks about 8:30 and headed upstream a bit. Tide was just starting to go out (high tide at 7am). Fished with some herring bought at Fletcher's and some of the other lures you guys suggested. First cast with the herring and I got slammed hard. Fought it for about 5 minutes, made some headway, but ended up breaking my line. Based on the what I caught the rest of the day, this had to be a 20+ lber. I don't know if it was a catfish or a striper. It definitely had more of a headshake than the catfish I caught the rest of the day, but I never saw it so can't be sure. A couple casts later, I got another heavy hit. This one I am pretty sure was a catfish. I fought him for a few minutes but he eventually went back in his hole or wrapped me around something. I couldn't budge him for about 10 minutes after that. Finally I had to cut the line (go ahead and give me grief on that, but he turned it into a waiting game and I had other things to do other than wait for him to come out and play). After that I caught about 7 or 8 Catfish ranging from about 5lbs up to a 10lber (I weighed that one).

Tyler caught about 5 or 6 Catfish in the same size range except one that was 15 lbs (picture below). He always gets the biggest fish.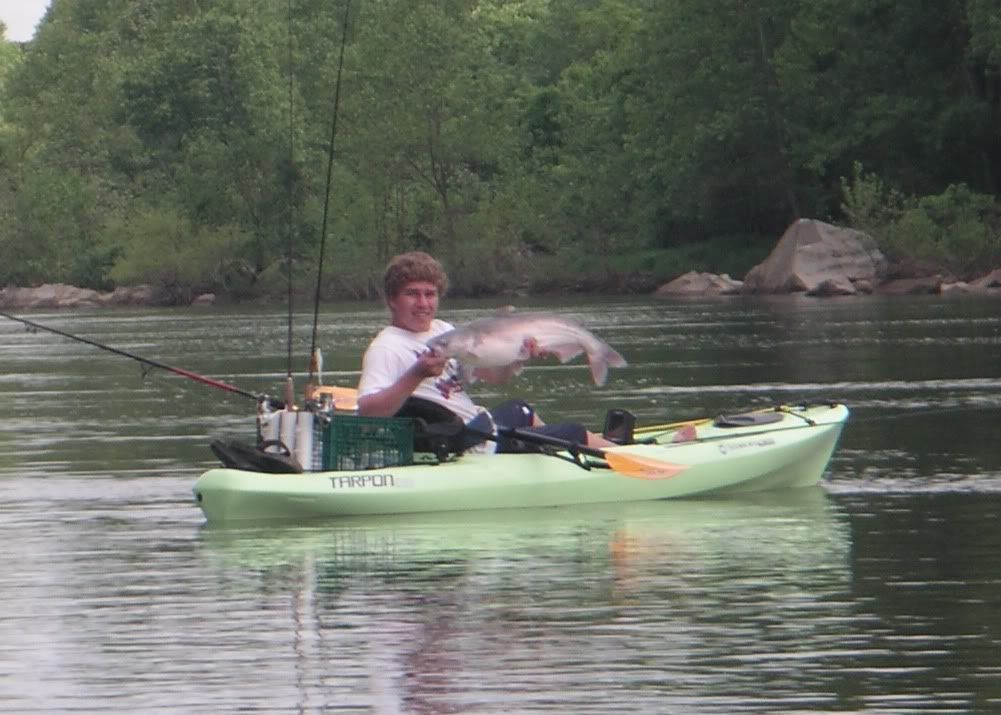 Later in the day I changed a few things and caught a 5 lb Striper. I tried to take a picture, but while I was getting my camera out of my drybag, he wiggled out of my hand and escaped. My first Striper! I am hooked.

Also, Tyler caught a Smallmouth on the rocks.

It was a great day on the water. Can't wait to go back to Fletcher's. Thanks for telling us about it and making some suggestions on how to fish there.